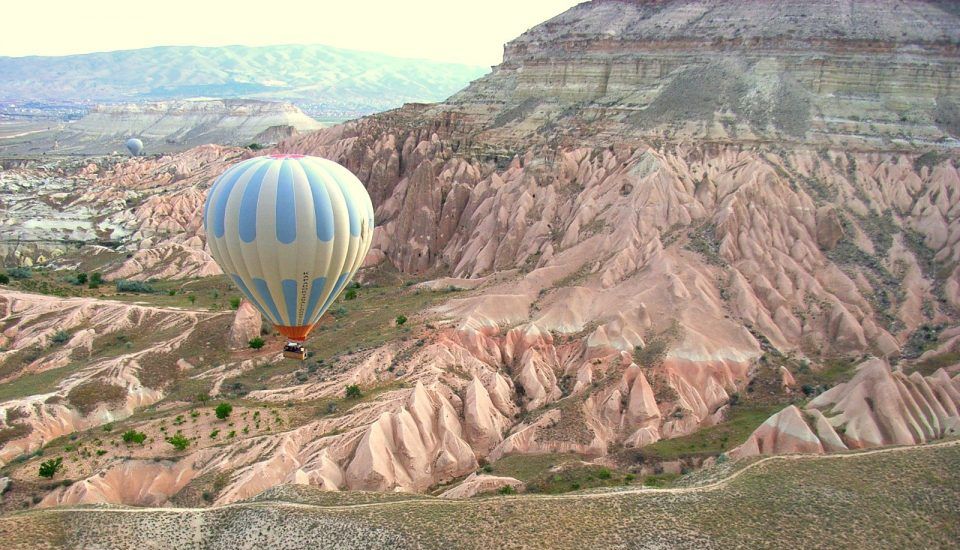 Fairy tale Cappadocia
Enchanting Cappadocia in Central Anatolia. A hikers' paradise and a unique cultural-historical miracle. Millions of years ago eruptions of volcanos covered Cappadocia, just west of Kayseri, with a colourfull layer of soft tufa and lava. Wind and water sculpted and polished fantastic rock formations and real works of art. Hittites, Christian monks, Byzantines and Ottoman people hid themselves in these canyons, carving out houses and frescoed churches. They even dug out giant underground cities from the soft rock. On foot, by bycicle, on horse back or hot air balloon: you'll be surprised by these pink hills, green valleys and fantastic forms. A true challenge full of new discoveries after every turn!
The village of Göreme
Göreme is situated in the centre of National Park Cappadocia, that is protected by the Unesco World Heritage List. There still are many inhabited cave dwellings in Göreme. It is a pleasant village fitted with modern conveniences but it has kept its authentic and cozy atmosphere. Besides restaurants, little shops, internet-cafés and terraces, you'll find quiet scenic alleys.
Monumental landscape
Everywhere around Göreme you will discover a monumental landscape, full of "fairy-chimneys", cave houses and churches with frescoes. The lush valleys and pink and yellow hills are filled with singing birds, butterflies and wild flowers. Plenty of opportunities to shoot imaginative pictures.
Cappadocia: an adventure for both sporty people and friends of culture and nature ….for younger people with a need for new challenges and for more experienced travellers.....